Econometrics
The Dow theory,

developed in the 1930s, was one of the first economic models applied to technical investing that established and correlated a statistical relationship between the Dow Jones Industrial Average and the Dow Jones Transportation indices. The 1970's and 1980's served as a proving ground for the existence of a relationship between interest rates and the performance of the stock market. The 1990's changed investment returns and recovery expectations.

The 21st century has realigned expectations again, especially recovery periods.

Our Investment Decisions

are based on econometric models, which are considered a reliable forecasting method. Econometric models are so reliable that the Federal Reserve Board uses them to anticipate economic data and set policies accordingly.

Most Fortune 500 companies also employ these forecasting systems for corporate planning.

Market hazards

Without active management, mutual funds and exchange-traded investments are vulnerable to bear markets, market sector rotation and volatility. Diversification typically fails as a risk management tool just when you need it most - in major market downturns. Hermes Econometric's focus is on managing market hazards and your investment outcome.
Our models are mathematical and therefore objective.

We are not making any subjective decisions about the market or being persuaded by any psychological or social events (such as an anthrax scare). To the extent equity and bond markets are concerned with these events, our models will take that into consideration.

We don't have meetings,

where the most persuasive or loudest or most charming person's viewpoint takes precedence. We simply follow the statistically proven and objective Hermes Econometric Model.

We are highly computerized,

and get your authority to go to your custodian directly and prior. This means that we can move thousands of accounts in one day, without having to locate you and have you or your financial professional authorize our decision.
OUR SERVICES
Once an investor contracts with Hermes Econometrics, we make the determination of how the portfolio should be invested based on current market econometrics and adjust that allocation as conditions warrant. Transactions are handled through Hermes Econometrics; we contact the fund, investment company or brokerage firm (the custodian) and assure your account is invested as determined by our econometric model.
PLEASE NOTE:
Your investment stays where it has been (i.e. the mutual fund or ETF) in your account, in your name.
Your Financial Professional continues to work with you as she/he always has.
You continue to receive statements and confirmations just as you have in the past.
Hermes simply allocates your money back and forth between a money market fund (when our models are negative) and whatever your normal account allocation is (when our models are positive).
The only thing that changes is that you now have an additional financial professional working on your team to help protect your assets and increase the value of your investment.
Active Management of Gains and Losses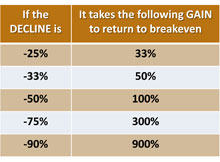 Losses matter more than most investors realize
Warren Buffet's #1 rule of investing is DON'T LOSE MONEY. It is hard to overstate the importance of preserving your capital in the face of market downturns and volatility. Anytime investors can avoid the impact of a down market, they have greater leverage to profit from the market's recovery and can outperform the market at a much lower risk level.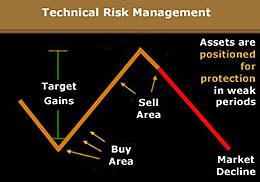 Managing market risk, limiting draw downs in your portfolio when markets turn against your investments and assuring that your account is positioned to profit from market upturns is the heart of our investment approach.
Technical risk management allows Hermes to identify potential turning points in the market cycle to position client assets appropriately.